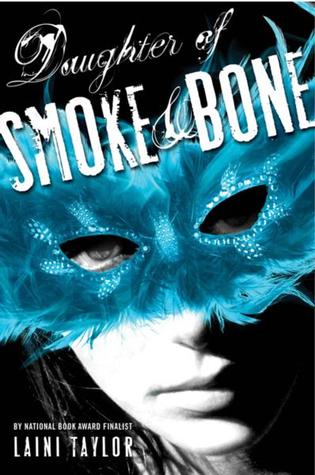 Title: Daughter of Smoke and Bone
Author: Laini Taylor
Publisher: Little, Brown Books for Young Readers
Release Date: September 27th 2011
Pages: 418
Series: Daughter of Smoke and Bone #1
Where I Got It: Local Library; bought $5 sale at Chapters Hardback
Synopsis:
Around the world, black handprints are appearing on doorways, scorched there by winged strangers who have crept through a slit in the sky.
In a dark and dusty shop, a devil's supply of human teeth grown dangerously low.
And in the tangled lanes of Prague, a young art student is about to be caught up in a brutal otherwordly war.
Meet Karou. She fills her sketchbooks with monsters that may or may not be real, she's prone to disappearing on mysterious "errands", she speaks many languages - not all of them human - and her bright blue hair
actually
grows out of her head that color. Who is she? That is the question that haunts her, and she's about to find out.
When beautiful, haunted Akiva fixes fiery eyes on her in an alley in Marrakesh, the result is blood and starlight, secrets unveiled, and a star-crossed love whose roots drink deep of a violent past. But will Karou live to regret learning the truth about herself?
Laini Taylor
Hi there! I'm a writer of fantasy books for young people, but my books can be enjoyed by adults as well. My 'Dreamdark' books, Blackbringer (2007) and Silksinger (2009) are about faeries -- not dainty little flowery things, but warrior-faeries who battle devils. My first young adult book, Lips Touch, is a finalist for the 2009 National Book Award! It's creepy, sensual supernatural romance. . . about kissing. I am also an artist with a licensed gift product line called "Laini's Ladies."
Review
I read this book on May 21st 2014.
This book just made me speechless. I've been reading quite a bit of New Adult lately and my sister had started to read it too. She started to read books that
I
was reading and getting ahead of me. When I saw this book at the library, I picked it up out of my impulsive nature to make my sister mad. I didn't expect to fall in love with the amazing book.
To be honest with everyone, I've been putting off this review. When people hear this they often think I don't want to write the review because I hated it. But in honesty, it's because there is really nothing
to
say about the book. It was simply
amazing
. Just no other words to describe how much fun it was to read.
Karou was a lot like me. Artsy, kind of impulsive, and she definitely takes risks. And I loved her character which is strange; when a character is like myself, I usually hate her but Karou was just a great person to read from because she made all the decisions I would and it was as if I was in this situation that she was. I'm just not going to add to Karou because I feel like I'll spoil it.
Akiva: beautiful. He was funny and kind and I just loved him. Normally all my book boyfriends are New Adult boys but Akiva can definitely knock a few of them down a notch because he was simply someone I fell in love with from beginning to end.
I just can't explain how much I enjoyed this book and if you want something to keep you up all night and get you out of a slump, read this. Even if you aren't in a slump or looking for a book to keep you up all night, just read the book. It was amazing and beautifully written in ways that make you wish this fantasy stuff was real.