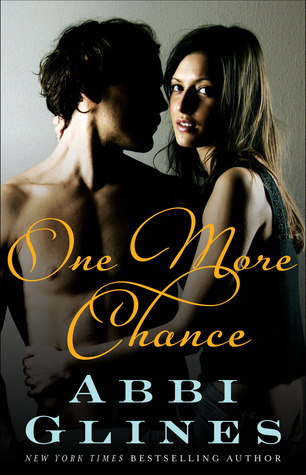 Title: One More Chance
Author: Abbi Glines
Publisher: Atria Books
Pages: 256
Release Date: September 2nd 2014
Series: Chance #2, Rosemary Beach #8
Where I Got It: The Publisher
Synopsis
Grant Carter did everything in his power to convince Harlow Manning that he was a good guy. More than a smooth-talker and someone she could trust. He had to overcome his reputation as a playboy, and his history with Harlow's half-sister, Nan, a woman with a reputation of her own.
Harlow had taken the chance, falling hard and fast for the guy who thrilled her with his all-consuming desire. After a lifetime of avoiding bad boys like Grant, she had opened herself to the possibilities of love...
But a life-changing secret has torn them apart, and now Grant and Harlow must decide if they have enough fight to make it work - or if the pain of betrayal has permanently destroyed their future.
Abbi Glines
Since publishing her first novel Breathe in May of 2011, Abbi has also released The New York Times bestselling Seabreeze Series which includes Breathe, Because of Low, While It Lasts, Just For Now and Sometimes It Last, The Existence Trilogy that includes the USA Today Bestseller Ceaseless. New York Times and USA TODAY bestsellers The Vincent Boys and The Vincent Brothers. Last but not least her most popular series to date, Rosemary Beach which includes The New York Times and Wall Street Journal bestsellers Fallen Too Far, Never Too Far, Forever Too Far, Twisted Perfection and Simple Perfection. Her newest book scheduled to be released on December 17th, 2013 is Misbehaving (Seabreeze).
When Abbi isn't locked away in her office typing away she is hauling her kids to and from their many social activities. You could say her second job is the Glines Kids personal chauffeur. It's a rather illustrious job.
Review
I received this book in ARC form, from the publisher in exchange for an honest review.
I loved it. Another amazing Abbi Glines book. She is definitely my favourite author, especially with all the amazing books she's popping out into the world! Keep it up Abbi!
This book was heartbreaking to say the least. I really was expecting the book to end a different way (I'm sure all you out there who have read it as well know what I'm talking about... yes?), but it ended in a way that I was happy with too. It was a sad book, but the sadness was weighed perfectly with the sexy-ness from Mr. Carter (insert swoon here). He was amazing in this book and all the readers will love him much more with this book: He. Is. Perfection. But he's not and thats the amazing thing about him!
I loved this book from beginning to end, it was a book that I could not put down. It wasn't all lead by love, it had so much more going on in the story. When you read it, you don't expect some of the stuff to happen that does. It is definitely surprising to say the least, but it was surprising in a great way. One of my absolute favourite part of this book: Mase! He was absolutely stealing the show from Grant for quite a bit and that was just fine with me! And when I found out he had a book! Another swoon from me! I loved this story from beginning to end, everything in-between that just made it... it.
It is a book no Abbi Glines fans are going to want to miss. Even though it may be something people can guess will happen, it's not when you find out some other stuff that just gets in the way in the book, however the stuff that gets in the way is this amazing thing in books called drama! All us girls love it and I just can't wait to devour another Abbi Glines book!