I did it! I read not only a book in January, but two!
I know, I know. Only two? I mean come on, I used to read 7-10 books in a month, and now only two? I'm working on it; my goal this month is to read two more books, as long or short as I want. Maybe not a lot to you, but I'm pretty proud of myself so far!
January read: Origin by Jennifer L. Armentrout, and Opposition by Jennifer L. Armentrout
Here's this month's options:
Chain Reaction (Perfect Chemistry #3) by Simone Elkeles
Luis Fuentes is a good boy who doesn't live with the angst that his big brothers, Alex and Carlos, have always lived with. Luis is smart, funny, and has big dreams of becoming an astronaut. But when he falls for the wrong girl, Luis enters a dark world he's never known, and just when he thinks he's got life all figured out, learns some disturbing news about his family that destroys his positive outlook on life. Will that Fuentes bad boy streak come out with a vengeance and lure Luis to live on the edge like his new girlfriend and his own father?
Continuing all the steamy romance of the first two books,
New York Times
and
USA Today
bestselling author Simone Elkeles gives fans one more satisfying taste of the irresistible Fuentes boys.
Apollyon (Covenant #4) by Jennifer L. Armentrout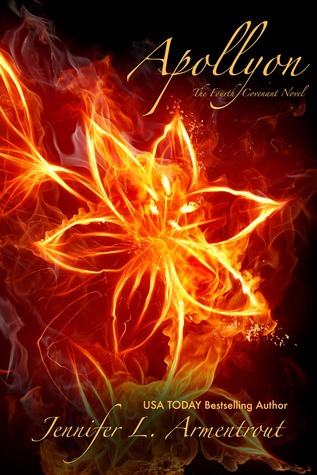 Fate isn't something to mess with… and now, neither is Alex.
Alex has always feared two things: losing herself in the Awakening and being placed on the Elixir. But love has always been stronger than Fate, and Aiden St. Delphi is willing to make war on the gods—and Alex herself—to bring her back.
The gods have killed thousands and could destroy entire cities in their quest to stop Seth from taking Alex's power and becoming the all-powerful God Killer. But breaking Alex's connection to Seth isn't the only problem. There are a few pesky little loopholes in the whole "an Apollyon can't be killed" theory, and the only person who might know how to stop the destruction has been dead for centuries.
Finding their way past the barriers that guard the Underworld, searching for one soul among countless millions, and then somehow returning will be hard enough. Alex might be able to keep Seth from becoming the God Killer… or she might become the God Killer herself.
Days of Blood & Starlight (Daughter of Smoke & Bone #2) by Laini Taylor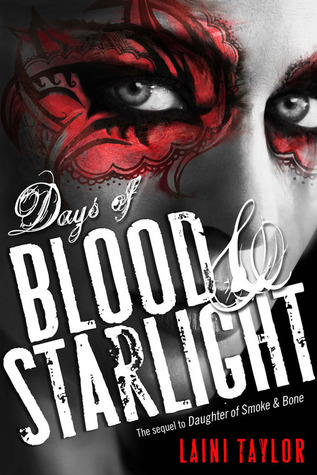 Once upon a time, an angel and a devil fell in love and dared to imagine a world free of bloodshed and war.

This is not that world.
Art student and monster's apprentice Karou finally has the answers she has always sought. She knows who she is—and
what
she is. But with this knowledge comes another truth she would give anything to undo: She loved the enemy and he betrayed her, and a world suffered for it.
In this stunning sequel to the highly acclaimed
Daughter of Smoke & Bone
, Karou must decide how far she'll go to avenge her people. Filled with heartbreak and beauty, secrets and impossible choices,
Days of Blood & Starlight
finds Karou and Akiva on opposing sides as an age-old war stirs back to life.
While Karou and her allies build a monstrous army in a land of dust and starlight, Akiva wages a different sort of battle: a battle for redemption. For
hope
.
But can any hope be salvaged from the ashes of their broken dream?
Please comment below letting me know what you think I should read, and link to your blog so I can check it out!