Obsession
Jennifer L. Armentrout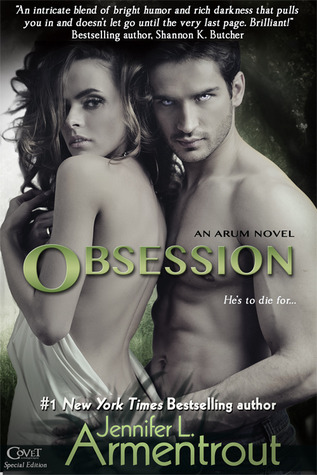 Synopsis
This is a stand alone novel that is an adult spin-off of the Lux Series
You do not need to read a Lux book to read Obsession and vice versa.
He's arrogant, domineering, and... To. Die. For.
Hunter is a ruthless killer. And the Department of Defense has him firmly in their grasp, which usually doesn't chafe too badly because he gets to kill bad guys. Most of the time he enjoys his job. That is, until he's saddled with something he's never had to do before: protect a human from his mortal enemy.
Serena Cross didn't believe her best friend when she claimed to have seen the son of a powerful senator turn into something... unnatural. Who would? But then she witnesses her friend's murder at the hands of what can only be an alien, thrusting her into a world that will kill to protect their secret.
Hunter stirs Serena's temper and her lust despite their differences. Soon he's doing the unthinkable—breaking the rules he's lived by, going against the government to keep Serena safe. But are the aliens and the government the biggest threats to Serena's life… or is it Hunter?
Jennifer L. Armentrout
# 1 New York Times and USA Today Bestselling Author Jennifer L. Armentrout Lives in West Virginia.
All the rumors you heard about her state aren't true.
Well, mostly. When she's not hard at work writing, she spends her time, reading, working out, watching zombie movies, and pretending to write.
She is the author of the Covenant Series (Spencer Hill Press), the Lux Series (Entangled Teen), Don't Look Back (Disney/Hyperion) and a yet untitled novel (Disney/Hyperion), and new YA paranormal series with Harlequin Teen.
Jennifer also writes New Adult and Adult romance under the pen name J. Lynn. The Gamble Brothers Series (Tempting the Best Man/Tempting the Player) and Wait for You. Under her pen name, she is published with Entangled Brazen and HarperCollins.
I've been putting off this review, as bad as that comes off. It's because I don't feel like my words are adequate enough to say exactly how I feel. I loved this book. I mean honestly, please comment on
this if you agree Hunter is way better then Daemon.
I personally started this thinking:
well I've wanted to read this forever, why not.
Why not. Come on, I fell in love with the freaking thing!!
Hunter
The characters were great. And I must say my favourite thing about Serena: she doesn't hide or scream at every little thing. She was the perfect challenge for Hunter. It was beautiful, because Hunter always thought he was incapable of love. All Hunter's comebacks, as well as Serena's, were awesome. And I loved Hunter's comments to the Luxen, like lite-brite and glow stick. Just awesome.
Screw Luxens, I'll be searching the shadows for an Arum. Hello ladies, I'd like to introduce you to Mr. Hunter hottie. Did you love the Lux series? Yes? Then read this. If you're comfortable with adult romance, read it. The only problem I had with this book was the sort of unresolved ending. There were a few loose ends. I'm going to go out on a limb here, and say that they get resolved in the Lux books? Most likely. And the problem with that is this can be read as a standalone, because it is a standalone. Unfortunately for us Arum lovers. Honestly, I don't think I'll be able to read Lux without thinking about how hot the Arum are now, and I'll just be in mourning for
Hunter
this book.
Reasons to read this NOW:
1. Hunter
2. Very easy story to get into
3. You get to see Daemon
4. A fun read about supernatural creatures that most people are scared off, but make you actually want to meet one... you know, just out of curiosity
5. It's Jennifer L. freaking Armentrout